Multi-Specialty Clinic
Treatment of all types of disease, with modern facilities
Best Homeopathic Clinic
Complete Care with Homeopathy, without any side effects
20+ Years of Experience
We have 20 years of rich experience to heal all types of health problems.
20
Years of Medical Excellence
Welcome to
Best Homeopathic Clinic
Dr. Aditi's Homoeo Health Clinic is a long-standing homeopathic clinic with a rich experience of 20 years. Dr. Aditi is one of the best homeopathic doctors in India specializing in the treatment of various diseases. We provide the best treatment for skin problems, hair problems, neuro disorders, etc. and the cure is permanent and complete.
Dr. Aditi's Homoeo Health clinic provides homeopathic treatment to patients from areas including Canada, Australia, USA, and Singapore and many testimonials prove the effectiveness of our treatment.
We encourage you to take advantage of this opportunity to get the best treatment at the best homeopathic clinic for your allergies, skin, and other health problems.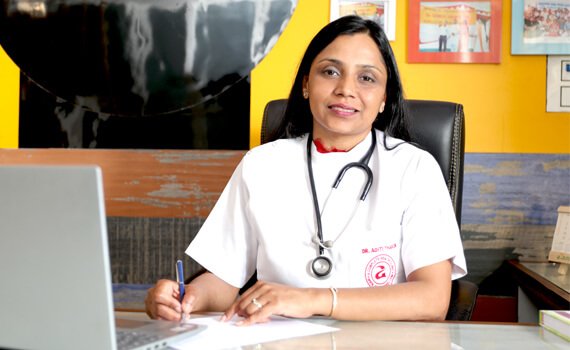 Mission & Vision Statement
We are a multi-specialty clinic serving for last 1999. During these years we have treated 10000+ patients with dignity. Being India's best homeopathic clinic we established standards in the field of Homeopathy.
Our Mission
We use a multi-modality approach to first identify the hurdles facing a patient's health, and then identify methods to effectively build a better picture of health.
Vision Statement
Our programs are co-developed by doctors and fitness specialists, aiming to empower our patients with the collective knowledge of our multidisciplinary team.
Clinic Principles
Being the best homeopathic clinic in Chandigarh, We are committed to principles to aligning operations and strategies with universally accepted principles in the areas of human rights, environment, and anti-corruption.
We have Treatment For!
Being India's best Homeopathic clinic we treat all types of health problems. In the last 20 years, we have treated thousands of patients.
Here is the list of some of the health problems, you can get treatment for at our clinic.
Skin Diseases
Speech Disorders
Development Disorders
Vitiligo | Psoriasis | Eczema
Tinea
Warts | Millia
Tumor | CYST
ADENOIDS
Kidney Stones
Migraine
Hypertension
Depression
Blood Sugar
PIVDS | Spondylitis
We provide natural treatment for all types of Pediatric problems without any side effects.
Autism
ADHD
Tonsillitis
Easy Dentition
Worms
Height
Growth Complaints
Cough & Cold
Asthma
Atopic Dermatitis
Speech Disorders
Development Disorders
Blood Sugar
Thyroid
Kidney Stones
Joint Complaints
Obesity
Hair Restoration
Cyst
Tumour
Heath Diseases
Counseling
PMGH/Hair Fall
What People Says
Patient
Testimonials
I was suffering from pigmentation and have very dark spots on my face. I have wasted thousands of rupees for the treatment of this problem. However, the problem grew day by day. Now I am taking treatment from Dr. Aditi's homeopathic clinic and my pigments are getting light day by day. It's a miracle for me.
Excellence diagnosis in Parkinson and dementia. My mother is suffering from Parkinson and Dementia for the last 12 years. I got in contact with Dr. Aditi. She did prescribe some homeopathic medicine. it is been about a month's time and I can feel some changes in my mother. May God shower his ultimate blessing on her.. GOD BLESS
This is seriously one of the best homeopathic clinics you'll ever find in Chandigarh. Excellent treatment for Vitiligo. I wasn't sure that Vitiligo can be cured by homeopathic medicines but Dr. Aditi successfully cured my Vitiligo problem. Everyone must visit and I recommend this clinic to everyone. Thank you, Dr. Aditi
Exceptional Service, Exceptional Care
01.
Premium Health Services
With Dr. Aditi, you will receive complete medical care regarding your health. Dr. Aditi will listen to your concerns, conduct a thorough medication review, and help you find a healthier you. We are here to help you understand your health and well-being that's why we are known as one of India's best homeopathic clinic.
02.
Receive Quality Care from Our Clinic
Complete cure without any side effects
Personalized care, tailored to your needs
Focus on long-term health and prevention
Highest standards of Homeopathic treatment
20 years of experience in Homeopathy
03.
Our Main Focus is on Complete Cure
We provide personalized care that is affordable and attentive. As a result, many of our patients are with us since 1999. Our main focus is to provide the complete cure to our patients, rather than providing temporary relief.